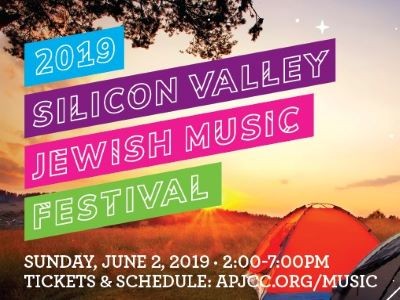 Powered by the Jewish Federation of Silicon Valley
APJCC, 14855 Oka Road, Los Gatos
Enjoy live music, food, and family activities at this annual festival on the JCC field. This year's theme will be camping and there will be song circles around an artificial campfire in between the headlining bands that will perform on the main stage. RocKid, a band that plays Israeli children's songs, performs at 2:30 pm. Other bands include Pharoah's Daughter Trio at 4 pm and Eric & Happie at 5:30pm. Stop by the PJ Library table and Reading Tent! Kids under 6 get in free!
 

2880 Mead Ave, Santa Clara

 

They turn off the music and dial down the distractions for the comfort of extra special jumpers. Children and young adults with special needs and their siblings, family and friends are invited to enjoy an afternoon of bouncy fun. Each "jumper" is $5 with a parent or therapist free.
 



Sunnyvale Community Center

550 E. Remington Dr, Sunnyvale

 

Colorful dots cavort and juggle onstage, while audience members take an ever-changing, magical journey with the actors in this original production of Press Here the Musical, inspired by Hervé Tullet's award-winning picture book, Press Here, about the power of imagination and interactivity. Recommended for ages 3 and up.
 

Got questions? New to the community or looking to make connections with other families? I can help!

 

Roni Wolfe, Outreach & Engagement Coordinator